VIDEO: This Egyptian Man Can Speak at Least 7 Languages, and You Can Barely Speak 1
With over one and a half million views, a video of an Egyptian man talking by the pyramids is going viral. The video shows a guy selling necklaces for tourists, and in that process, learned many different languages.
In the video, the man demonstrates his ability to master at least seven languages, including English, Japanese, Chinese, Russian, and Spanish!
WE SAID THIS: *Downloads Duolingo*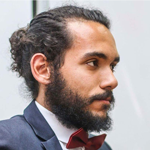 Comments