Meet the Egyptian Vincent Van Gogh
Egyptian photographer Adel Essam strikes again, this time with Vincent van Gogh. Yup, we quite understand that the Dutch Post-Impressionist painter who is among the most famous and influential figures in the history of art is dead, but Essam has found his Alexandrian doppelganger.
Mousa, 46, is a gardener that works in Alexandria's public parks. "I spotted whilst walking through the streets of Alexandria. As soon as my eyes met him, I just couldn't take them off of him. He was Vincent van Gogh," Essam explains how it all happened.
"I sat down with him and explained to him that he remarkably looks like a famous artist. I even showed him pictures of van Gogh. He was nervous at the start as he was never put in that situation before, but soon relaxed and let me do my thing."
Essam told us that the shoot he had with Mousa was one of the easiest ones he has ever worked on. "I managed to take over 200 photos in 15 minutes. It was easy and natural. After we were done, I told Mousa more about van Gogh and how amazing his Dutch counterpart was. How the person he looks like changed the world. I couldn't believe that this man lived all 46 years of his life without a single person telling him that he looks like one of the world's influential figures."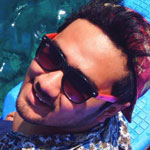 Comments