Egyptian Graphic Designer Ghada Wali Makes Forbes List '30 Under 30′
It always gives us a sense of pride when an Egyptian makes it big. This time it is a 27-year-old graphic designer, residing in Florence, Italy. Ghada Wali is our latest star after winning the Granshan competition in Munich, in addition to two Adobe Design Achievement awards. According to Forbes, the Society of Typographic Arts Chicago considers her among the best 100 graphic designers in the world. Now how impressive is that?
Wali's name has been linked to some of the biggest advertising agencies in Egypt as MI7 Cairo, Fortune Promoseven and J. Walter Thompson. Our Forbes conquere is no stranger to viral content, she is also the same designer who collaborated with Nourhan Moaz on the social media campaign campaign called "Meen Homma" with the slogan فكر اقبل اتغير (meaning Think Before Change).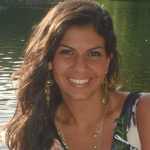 Comments